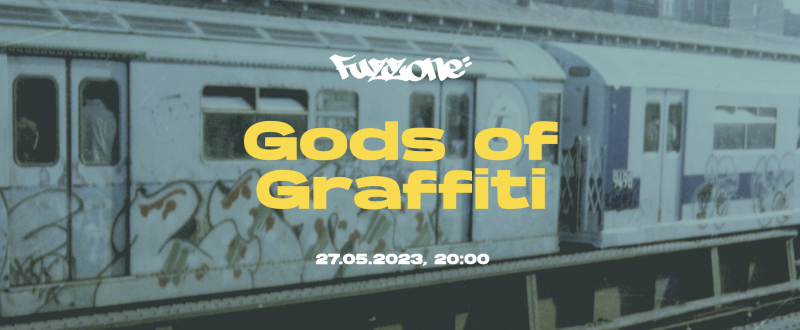 Brain Damage Gallery invites you to the "Gods of Graffiti" vernissage, featuring an extraordinary exhibition and the official premiere of a book authored by one of the most notorious graffiti writer - Fuzz One.
This event marks the culmination of a four-year project undertaken by Brain Damage Gallery in collaboration with the Museum Of Graffiti in Miami. The exhibition and book pay homage to the unforgettable graffiti writers who have shaped the aesthetics of New York, leaving their unique marks on the cityscape for decades.
The exceptional nature of this event is further enhanced by the presence of Fuzz One himself, who will share his experiences and insights on the evolution of graffiti directly with the guests. Joining Fuzz One will be another legendary figure from NYC: Alan Ket.
"Years ago, I started to think about doing a graff project that would be different from all the those project that were already out there. I got a pad, a couple of pens I have been using for 45 years, and I wrote down about 300 names of writers who were gods to me. This book took me three years of traveling around in subways, going back in time to give props to the most distinctive style formation gods in the graff game. That's why I called it "Gods of Graffiti."
FuzzOne
"To understand Fuzz and to hang out with him was like hanging out with the essence of graffiti bombing. This man had written his many names thousands of times on the inside of the trains, the outside of the trains, and walls all over New York City, going back as early as 1970. Old timers all reflect and state that he was the youngest and smallest graffiti writer in those early days of the birth of the graffiti movement. He lived through the developmental years of the stick style tags (as he calls them), through the development of early bubble styles, and the invention of complex wild-style burners. He was partners with some of the best writers from many eras and helped them raise the bar due to his passion for bombing. By 1980, he was considered a god of graffiti, already having done it all. He did pieces with many different names, including Fuzz, Ivory, Lord138, Romeo, Solid, 2Wild, 2God, and Prince. He did throw ups as Sor, CK7, and DJ2."
Alan Ket
VERNISSAGE:
May 27, 2023, Saturday, 8:00 PM
Brain Damage Gallery
Plac Teatralny 1, Lublin,
Centre for the Meeting of Cultures / entrance from Sklodowska Street/.
Admission is free