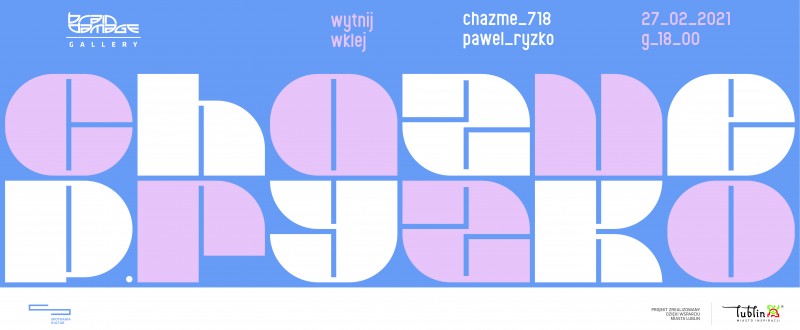 Wytnij / Wklej [Cut/Paste]
Chazme / Ryżko
A unique collaboration of two artists resulting in a series of works combining elements of collage, screen print, stencil, and painting...
The variety of used techniques hints to the most important idea of the project, which was creating a harmonious realm based on the dissimilar styles of Paweł Ryżko and Chazme.
Ryżko in his work draws on constructivism, employing simple shapes, flat forms, vivid colors, and concealed typographic elements. Chazme combines elements of urban art with architectural and geometric motives.
The result of the experiment is truly amazing. The created works are a multi-dimensional, incredibly diverse, and fascinating journey into color, space, and composition. Despite working together, Chazme and Ryżko did not abandon their distinctive styles. Each of the 20x20cm objects from the series brings out the most characteristic features of their art, and the uniqueness and multifariousness of the works is a great testimony to the potential that lay in the collaboration between them.
The Wytnij / Wklej exhibition will also feature new paintings prepared individually by Chazme and Ryżko.
Feb 27th 2021 / Saturday / 6PM
Brain Damage Gallery / Spotkania Kultur, Pl. Teatralny 1
(entrance from Skłodowskiej 7 St. ).